Future Church of England: The Diocese of Manchester and the LGBT Agenda in the Church of England
So everyone knows after the
Pilling Report
and the events that have followed (including clergy entering gay marriages and various bishops pronouncements) that gay marriage and the LGBT agenda in particular are the next incendiary issue in the Church of England.
I'm not aiming to explain the case for why biblical Christians both want to show the love and grace of Christ to LGBT people and also reject homosexual practice and marriage. For good information on that see the Bishop of Birkenhead's dissenting statement in the Pilling Report and the
Living Out
website.
I just wanted to highlight a couple of stories sent out by the Diocese of Manchester recently. See below, which are directly copied and pasted from the enews email. Please pray that our diocesan bishop would be faithful. Please pray for faith ministers in the diocese. and how we should act.
OUT! at the Cathedral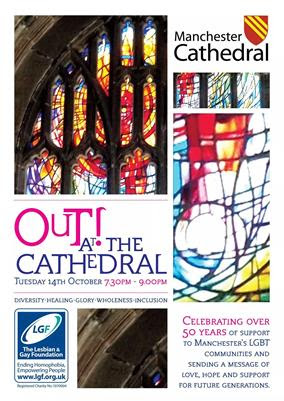 A special service celebrating Manchester's diverse LGBT community will be held in Manchester Cathedral with The Bishop of Manchester alongside many local LGBT groups and organisations.
14 October, 7.30pm. Free. The event is an inclusive spiritual service and is free and open to people of all faiths and none.
Equality Plaque Unveiled
On Tuesday 7 October, The Lesbian & Gay Foundation paid tribute to The Campaign for Homosexual Equality (CHE) by celebrating the 50th anniversary of the founding of CHE with The Bishop of Manchester and the Lord Mayor of Manchester at the unveiling of a commemorative plaque at Church House.
A number of moving speeches were made and we were reminded that despite the progress in equality rights for LGBT people, many countries across the world are hardening their attiitudes and legislation.
The first meeting of the North West Committee for Homosexual Law Reform took place in the Manchester Diocesan Board for Social Responsibility on Blackfriars Road in the then Bishop of Middleton's room.